Home electrical systems should be installed and repaired by a licensed professional to meet residential building codes and keep your family safe. Rankin Electric has years of experience in residential electrical wiring, installation and repairs and can assist you with almost all of your household electric needs.
Expert Residential Electrician
If you're building a new home, electrical wiring is an important step that shouldn't be put off until the last minute. The installation of electrical outlets, lighting and appliances requires careful planning and execution and should be handled by a licensed professional, so the systems are safe and functional.
Rankin Electric has years of experience in the residential electrical industry and can provide top-quality wiring and breaker or outlet installation in your home. We are also adept at remodeling and rewiring projects. If the electrical system in your home is outdated or unsafe, call one of our experts to assess the existing electrical system and make a plan for rewiring.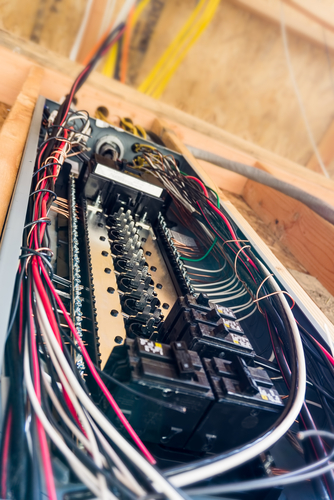 Appliance and Ceiling Fan Installation
In addition to residential electrical wiring, the professionals at Rankin Electric can also install major appliances and new outlets. Whether you need upgraded wiring for a dryer or car charger or require ceiling fan installation in Bakersfield, CA, we will deliver. Here are some of the many residential electrical projects we offer:
Appliance installation
Breaker installation
Car charger installation
Ceiling fan wiring and installation
Dryer installation
LED Lighting
New circuits
New construction wiring
Outdoor and patio lighting
Outlet installation
Recessed Lighting
Remodels/Rewiring
Homeowners in Bakersfield, CA love working with our residential electricians because of our prompt and reliable service. With years of experience under our belts, you can be sure that the job is done right every time.
To learn more about our residential electric services or to schedule an appointment with one of our expert electricians, contact Rankin Electric at 661-325-8658. We also offer free estimates on new construction wiring projects!